Peter Lars Dordal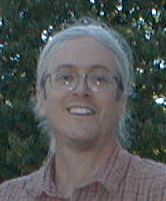 Me with friend.
Click the picture for more.
Contact
Department of Computer Science
Phone:
312-915-7980
Loyola University, Lewis Tower 527
Department:
312-915-7999
820 North Michigan Ave
Email:
pld AT cs.luc.edu
Chicago IL 60611 USA
pld.cs.luc.edu
Normal office hours: Fall 2017 office hours:
I'm waiting until I have an office. Sigh.
---
Check your IP address
Personal Information
I am an associate professor within the Department of Computer Science at Loyola University of Chicago. My research interests are in programming languages and computer networks.
My other interests include woodworking (some with hand tools, some with power), horticulture, animals (especially horses and poultry) and rural life.